Ministerial Secretary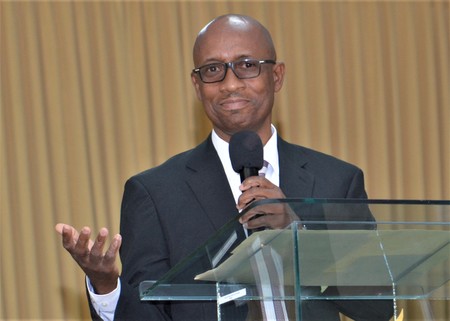 Pastor Wayne Andrews
The Ministerial Secretay's responsibilities are but limited to:
1. Example and Mentor – Spiritual example and mentor to every pastor, pastor's family and local church elder.
2. Coordinator of Pastoral Evangelism and Church Growth, for example – Evangelism, nurture, training for service and deployment in reaching others.
3. Personal Growth – 
    a. Emphasis on the spiritual life of ministerial workers and their families. 
    b. Emphasize a balance between personal, devotion, work, family time and recreation.                                                                                                                                   
4. Professional Growth – continuing education, ministry magazine, seminars and lectures.
5. Recruitment of Ministerial Workers and their orientation.
6. Assigning Interns to Intern Supervisors – selection and training of Intern Supervisors, monitoring their progress, quarterly and yearly evaluation of Interns.
7. Conduct ongoing evaluation for all ministerial workers.
8. Guide pastors from internship to the point of ordination.
9. Encourage Team Ministry between pastors and their wives and between their fellow pastors.
10. Encourage and plan Inter-faith Fellowship with ministers of other denominations, for example – Professional seminars, ministry magazine.
11. Encourage ministerial workers to be loyal to God, the doctrines of the church, policies, leadership and the organizational structure of the church.
12. Present the need of Ministerial Workers to Administration.
13. Identify Ministerial Workers whose methods are successful and share their expertise with other Ministerial Workers.
14. Ensure that there is a functioning Ministerial Association and Shepherdess Club.
15. Be a Pastor to Pastors and other Ministerial Workers and their families, for example – visit, encourage, counsel and pray with them and their families.
16. Visit, encourage and pray with retired workers and their families.
17. Resolve conflicts between pastors and members, churches and pastors, and pastors with pastors.
18. Promote Appreciation Day for ministerial workers and their families' during the month of October.
19. The training of Elders in areas such as: preaching, worship, leadership, evangelism, nurture, visitation, church organization, doctrines of the church, organizational loyalty, pastor/elder team ministry.
20. A resource person for pastors and elders.
21. Provide periodic training opportunities for ministerial workers.
22. Keep the conference president and executive committee informed of problems or potential problems in Ministry, and offer solutions.
23. Prepare material that could benefit ministerial workers.
24. Engage in team work with fellow directors.
25. Conduct surveys to ensure that the needs of the Conference are met.
26. An advisor to the conference president and executive on all matters concerning ministry.